Dressed in holiday style
In the air there's a feeling of giving
Children laughing, people passing
Meeting smile after smile
And on every street corner you hear...
Silver bells, silver bells...
Have you ever spent the holidays in New York City?
I have never spent it outside of the city ever, but I can still tell you that there is
nowhere
that compares to here. Come December, the streets are filled with busy shoppers struggling with big shopping bags, bright city lights and decorations, so many wonderful little sights... and even the bell-ringers on street corners collecting donations is a treasured sight. Then there are all the beautiful, elaborate window displays all the stores deck out. My favorite is peering through the always amazing displays Macy's put on every year. They never fail to disappoint. I'm talking about displays that would make anyone believe in the magic of Christmas!


Take a stroll up 20 blocks or so and you'll find yourself in Rockerfeller Center where there stands the Christmas tree.
If you're here, don't miss the Rockettes. They really are spectacular! When I went a few years ago, I felt like a little kid the entire show, just in awe. I already purchased tickets for a showing this year with Audrey. So, so excited!
And in my younger years, ice skating at Wollman Rink at Central Park was the winter hang out spot. This is a sport I must revisit this year with the girls!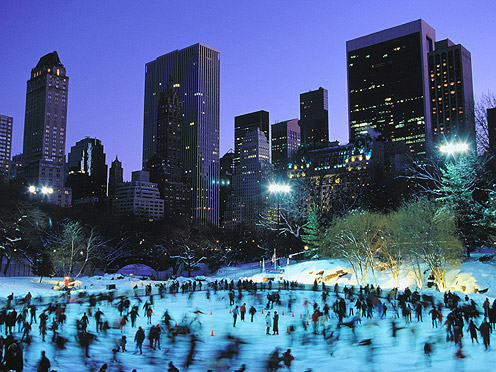 I love the holidays in this city...